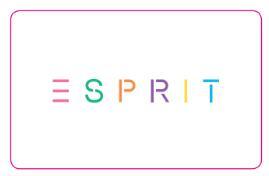 CHECK YOUR GIFT CARD BALANCE
To find out your Gift Card balance, click "Check Balance" below and enter your unique Gift Card number. You'll find these numbers on the back of your Gift Card.
Check Balance
DOWNLOAD GIFT CARD TO MOBILE
You could download Gift Card to your smartphone, just simply click "Download Gift Card" below and enter your Gift Card number and Card Pin on the card back with email address. Verify by email and Gift Card will be downloaded automatically in your "Apple Wallet" or "Android Pay" in smartphone.
Download Gift Card
TERMS & CONDITIONS
This Gift Card is issued by Esprit and redeemable at all Esprit stores (except concessions) in Singapore.
No change or cash refunds will be given, nor can any change be given for the unused amount.
If the card is exchanged for goods of a higher price than its face value, payment of the difference must be made.
This Gift Card expires 12 months after it is being purchased and activated, any remaining balance shall be forfeited.
Esprit cannot replace or reimburse the value of your Gift Card if it is lost, stolen or damaged.
Esprit reserves the right to amend these terms and conditions at anytime without prior notice.